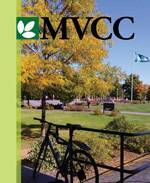 The Primary Purpose
The primary purpose of the Student Handbook is to provide students with information, guidelines and policies that will enhance their adjustment as citizens of the Mohawk Valley Community College community. All students are urged to read it carefully as you are responsible for understanding its contents and adhering to the policies and procedures that are set worth within it. This is an entirely online document and you may navigate it by utilizing the links to the right. While this handbook does not address all of the rule infractions for which students may be disciplined, it does provide guidelines about student life at MVCC.
DEPARTMENT OF PUBLIC SAFETY
From a campus phone: ext. 5777
From an off-campus phone: 315-731-5777
Dial x5777 for the following emergencies:
Medical emergencies and Public Safety
Escort service
Vehicle jump-start or locked car doors
Criminal complaints
Fire/burglar alarms
Bomb threats
Any other act requiring the immediate response of Public Safety
Any accident/injury must be reported to Public Safety immediately.
How to contact Public Safety:
Main office is in the Academic Building room 109
By dialing x5777 from any on-campus phone found in all classrooms and labs
By calling 315-731-5777 from any off-campus or cell phone
"Emergency Red Phones" are found inside buildings in common areas
"Emergency Blue Phones" are found outside on campus grounds
For OFF-CAMPUS emergencies in Rome and Utica, call 911 or a proper authority.
NY Alert System
Mohawk Valley Community College has enhanced its campus safety operations with the installation of a mass notification system for campus emergencies.
This mass notification system includes two components. The first is a siren on the Utica Campus that will sound only in the event of a serious emergency. The College will test the siren at least once each semester, and students will be notified in advance of the test.

The second component is a voluntary system of enrollment for all students for notification of emergencies through the State Emergency Management Office (SEMO) alert system. This voluntary system is known as New York (NY) Alert.

NY Alert provides subscribers with either an email, fax, or cell phone text message to let the subscriber know that an emergency condition exists on campus. MVCC gives students and staff the opportunity to voluntarily submit their preferred method of contact to SEMO. In the event of an emergency, NY Alert will send a message to the subscriber letting them know of the emergency condition, and in most cases, specific instructions on what to do.
How do I get started?
Go to the SIRS link on the MVCC website (mvcc.edu) and log in to your SIRS account. Once you are logged in, there will be instructions for submitting information for NY Alert.
Emergency Calls to Students
Persons wishing to contact a student in an extreme emergency should be directed to Counseling Services (Utica Campus: PH 104B at 315-792-5326, Rome Campus: PC 130 at 315-334-3559) or to Public Safety (Utica Campus: AB 109 at 315-731-5777 or on campus dial x5777.) Every attempt will be made to locate the student and pass along the message to return an emergency phone call. The caller may be asked to explain the nature of the emergency
Helpful Information
NOTICE OF ANTI-DISCRIMINATION POLICY
Mohawk Valley Community College is committed to equal opportunity in educational programs, admissions and employment. It is the policy of MVCC to provide equal opportunity for all qualified applicants, students and employees; and to prohibit discrimination on the basis of race, color, sex, religion, national origin, ancestry, age, disability, marital status, sexual orientation, arrest/conviction record, or veteran status.

College's Civil Rights Compliance Officers/Coordinators
Section 504/ADA:
Coordinator of Accessibility Resources
Affirmative Action Officer:
Executive Director of Human Resources
Title IX Coordinator(s):
Employees – Executive Director of Human Resources
Students – Vice President for Student Affairs and Dean of Students
For information about MVCC student outcomes, financial aid, debt, employment, and more, visit mvcc.edu/consumer.
Mission Statement
MVCC provides accessible, high-quality educational opportunities to meet the diverse needs of our students. We are the community's college, committed to student success through partnerships, transfer and career pathways, and personal enrichment.
Vision Statement
Transforming lives through learning.
Statement of Purpose
As a diverse institution with a global view, Mohawk Valley Community College provides opportunities for affordable education, with support from Oneida County and the State of New York, and offers career, transfer and transitional education, programs for personal and cultural enrichment, and supports community and economic development.
Assessment
MVCC is committed to and conducts assessments activities to obtain information for the improvement of student learning, programs, services, and the overall effectiveness of the College. These activities may include surveys and questionnaires, exams, focus groups, research projects, and standardized tests. Members of the College community are expected to participate. MVCC Principles of Assessment can be found on the MVCC Institutional Effectiveness website.
Crime Statistics Availability
A copy of Mohawk Valley Community College campus crime statistics as reported annually to the U.S. Department of Education will be provided upon request by the Department of Public Safety, (Utica Campus) 315-792-5566. Information can also be obtained from the U.S. Department of Education website at: http://ope.ed.gov/security/ or on the College's website at www.mvcc.edu.
Administrative Officials
Dr. Randall J. VanWagoner, President
Dr. Maryrose Eannace, Vice President for Learning and Academic Affairs
Thomas G. Squires, Vice President for Administrative Services
Stephanie C. Reynolds, LMSW, Vice President for Student Affairs and Dean of Students
Franca Armstrong, Associate Vice President of Workforce Development and Dean of Rome Campus
Building Codes: Utica
AB Academic Building
ACC Alumni College Center
JC Jorgensen Center
IT Information Technology
PH Payne Hall
ST Science & Technology Building
Be Bellamy Hall
D Daugherty Residence Hall
H Huntington Residence Hall
B Butterfield Residence Hall
P Penfield Residence Hall
Building Codes: Rome
PC Plumley Complex