Messenger Birds deliver dream come true for Michelle Roberts
By Jennifer Fanelli
For Michelle Roberts, realizing one's full potential is the first step in achieving a dream.
"Never let someone tell you what you can and can't do. Live to your full potential — it's what we're made for," says the branding strategist and entrepreneur. "If I had listened to people telling me I couldn't do it, I wouldn't be here today."
"Here" is certainly an exciting place to be. Roberts, an award-winning designer and marketing expert, has built her own successful branding and design agency, Novus — Be Known, Inc., based in Rochester, N.Y., and this past summer, one of her handcrafted creations — the Raku Messenger Bird — was picked up by Hallmark Cards, Inc., to be sold in select stores around the country.
Roberts' Messenger Birds are gifts created from clay. Each bird is unique, with its own special markings, and each has a hole through the middle to hold a handwritten note for the recipient.
"It's all about human connection," she says. "I believe that every day, the best gift we can strive for is an authentic human connection, and these birds are at the core of that."
Roberts came up with the concept at her apartment almost six years ago, while she played with clay at her kitchen table.
"I made a bird, but I wasn't happy with the way it came out," she says. "So it morphed into different shapes and structures. I played with different glazes, and I thought, this is cool, but what is the function ... what are they going to do for people? Then I thought, 'What's better than receiving a personal, handwritten note inside a handmade object?'"
And the Messenger Birds were born. They were featured in many print and online publications, and eventually caught the attention of Hallmark. That is what really gave them wings.
"When I got the call, it was a dream come true," Roberts says. "They told me I was going to have to pull it all together, make the birds, find the packaging ... it was a great opportunity with a lot of preparation. It was stressful, but very rewarding."
One of Roberts' biggest fans is her 92-year-old grandmother, who had worked with Hallmark products for much of her life.
"She always wanted to have her own idea in Hallmark," Roberts says. "I was so ecstatic when I was able to tell her I did it. Then she said, 'I have some other ideas I would like you to take to Hallmark for me.'"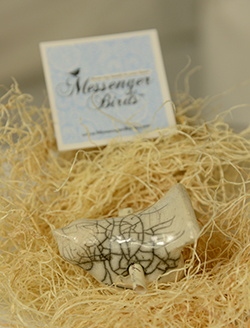 Roberts says she initially wanted to be an engineer, but she lacked a strong math background. Her mother suggested she try Graphic Design at MVCC. The College was close to home, affordable, and had a reputable program in graphic design.
"After my first class, I fell in love," she says. "MVCC really taught me so much. I was able to really use what I learned. The program was intense, and the teachers had high expectations. It definitely prepared me for transferring to Oswego, but also my career — setting those high standards of what design is, and the work ethic behind it is very important. I loved the challenge. It was an amazing program."
After graduating with a BFA in graphic design from SUNY Oswego in 2006, Roberts moved to Rochester to work for a giftware company, where she created high-end giftware and unique packaging design. She spent some time in Utica working for Mele & Co. as an art director, product designer, and illustrator. After a few years, she returned to Rochester to work for an advertising agency before an experience working with a branding company gave her insight into a new dream.
"I fell in love with branding," she says. "I found that this was what I was meant to do."
So Roberts left the agency and began anew. She hired a business coach to help with the business side of things, how to package herself, and how to make money. In January 2013, she launched Novus — Be Known Inc., a company that helps create meaningful and strategic brand design and marketing for entrepreneurs and large privately owned companies.
"Our goal is to communicate messages that change perceptions, connect with our clients' true value and vision, and impact the world in a positive light," Roberts says. "Fostering relationships is at the heart of everything we do."
As president and brand strategist at Novus, Roberts wears many hats, including account manager, art director, and sales. Her handpicked team of creative professionals helps to support her clients' needs. And it's working: During the third year, Roberts says, Novus saw six figures in sales for 2015. And her work has been widely recognized: Among her achievements are Best in Show and First Place Design Award for the MVCC Alumni Show in 2015, American Graphic Design Award in September, and the Rochester Women's Network Up & Coming Businesswomen's Award, also in September, which she says is her proudest achievement so far.
"It was the best," she says. "My family came, my partners, my clients ... I felt so supported."
Roberts isn't showing any signs of slowing down. She has found a great mentor who is helping her find new nesting spots for the Messenger Birds.
"We really want to get the birds out there and share more stories," she says. "It all comes back to realizing your own potential — that you can do anything."