Architect and MVCC Alumni of Merit Award winner Crolius '78 dedicated to service, community
While he graduated from MVCC in 1978, architect Christopher J. Crolius often finds himself back on the College's Utica Campus where he began to lay the foundation for his future.
Only now, Crolius isn't sitting in a classroom learning about civil engineering or out in the Quad with his surveying class — he's in and out of buildings to check in with clients, or up on the roof to assess the progress of projects his firm is working on at MVCC. "I've been very fortunate to have been involved in a number of projects here over the years," he says.
Crolius, a principal and co-founder of MARCH Associates Architects and Planners PC in Utica and MVCC's 2019 Alumni of Merit Award winner, plays an active role in all aspects of the firm's operations, taking a hands-on approach to solving design and construction issues. MARCH Associates — now in its 26th year — has worked on many projects at MVCC's campuses, including recent exterior signage and Alumni College Center renovations, and was the architect of record for the newly renamed Francis A. Wilcox Hall.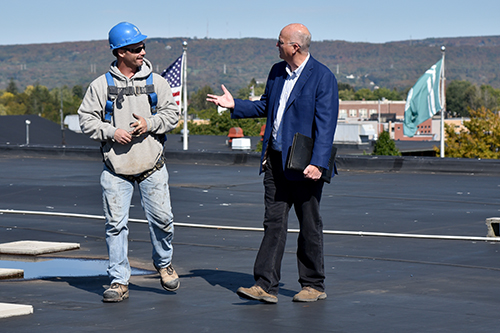 "I've had the opportunity to do renovations and transform tired spaces into spaces that are bright and well-received," Crolius says. "At this point, I think we've worked in almost all of the buildings on campus."
Crolius says it is satisfying to revisit projects he's been a part of — especially on a campus that means so much to him. "My partner Tony always says our projects are like children," he says. "You invest your time in them, remember things about them, but it's not just the experience — it's the firm, our consultants, and everyone else. It's really a team approach."
That team approach, and a focus on service, he believes, is what sets MARCH Associates apart from other architects. "We're small enough that I can be involved in the majority of projects, but we're large enough that we can do projects of significance," he says. "I love building things, solving problems, and working with people. And when you're talking about buildings, it's really about people. It's about people wanting to be in that space and enjoying the experience."
Crolius, a native of Boonville, was first attracted to MVCC because of its affordability and found its engineering programs were highly rated and transferrable. "I thought that it was a very good foundation. It was broad enough that I had general knowledge in a lot of areas."
After earning his associate degree in 1978, Crolius transferred to Utica University for a bachelor's degree in construction management. In his senior year, he worked part-time as a spec writer at Stetson-Dale, an engineering/architectural firm in Utica. He worked through various roles — architectural team leader, project manager — then took the architecture exam to become licensed. During this time, he also earned his MBA from Rensselaer Polytechnic Institute.
Crolius and two other architects, Tony Martino and Chuck Higgerson, split from Stetson-Harza several years after it was acquired by an engineering company, then started MARCH Associates in 1993. The firm has a vast portfolio that features many projects — about 85% of its workload is within the educational market, including schools such as New Hartford and OHM BOCES; and colleges such as MVCC and Utica University.
Lately the emphasis in education has been on security and how we make places safer for students and staff," Crolius says, "so we have to balance between being secure but also remain warm and inviting."
Finding that balance can be a challenge, he says, especially in aging structures. "It starts with developing a single point of entry," he says. "When some of these older buildings were designed, they had multiple entry points. The district office might not be located right at the main gate, but you kind of need a gatekeeper. A lot of our work has dealt with moving that function to that entry point so it is controlled."
Crolius is a registered architect in New York State, and a member of the American Institute of Architects: the Construction Specifications Institute, the Sealant, Waterproofing, and Restoration Institute, and the Mohawk Valley Builders Exchange. He also serves on the Construction Management Committee Advisory Board at Utica University. He is not the only member of his family with ties to MVCC — his wife, Cindy, and youngest son Brian are also graduates.