NYSUT Executive Vice President Jolene DiBrango
an advocate for education at all levels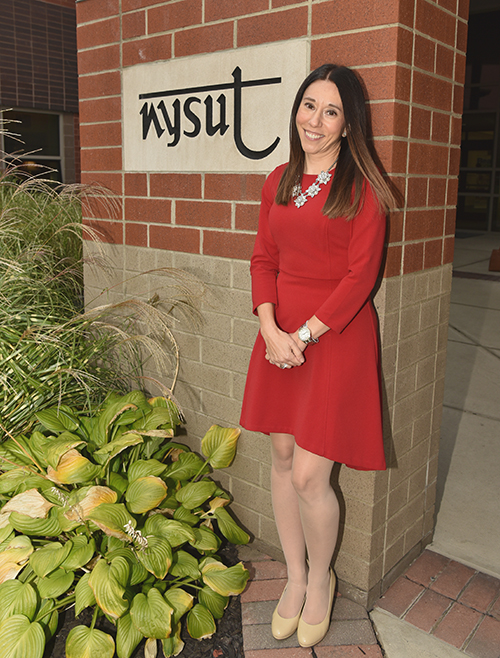 Jolene DiBrango was the first in her family to graduate from college when she received her associate degree from MVCC in 1989, an experience she says played a big part in where she is today.
"I felt as if I 'found' myself there," she says. "I made new friends — lifelong friends — and it offered me a chance to start over, in a way. I was able to branch out, meet new people, broaden my horizons, and begin to develop into the woman I am today."
One of those new people DiBrango met was her husband, Joe. "I was walking down the hall and this cute boy sneezed. I said, 'Bless you,' and the rest is history."
It was at MVCC that a 17-year-old DiBrango, a self-described shy young woman, got on the path that led her to her current role — as executive vice president for the New York State United Teachers (NYSUT). "Our union is over 600,000 members strong, and we represent educators and school-related professionals in P-12 and higher education, healthcare professionals, and we have a vibrant retiree membership," she says. "Advocating for issues that matter to our members feeds my soul, and I am humbled to serve in this role."
NYSUT fights for increased funding for institutions of higher learning and advocates for community colleges at the state and national levels, she says. In fact, NYSUT represents the MVCC Professional Association, the union for MVCC's faculty and professional staff.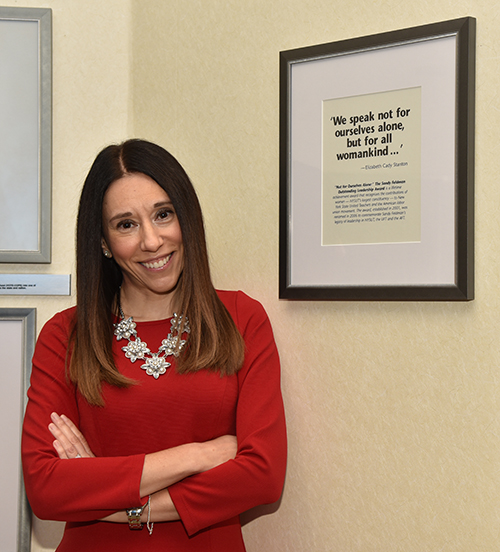 "Community colleges are essential to every community," DiBrango says. "I believe this, but more importantly, our organization believes this. A community college can change the economic status of an entire family by providing an education that allows for the flexibility that so many students need today. It's plain and simple: I wouldn't be where I am today without MVCC."
DiBrango came to MVCC after graduating from New Hartford High School, where she focused on business courses. The College offered an associate degree in secretarial science, which seemed like a nice continuation of her studies, she says. "Attending MVCC allowed me to live at home and work, which was important to both me and my family."
She especially appreciated the small classes sizes, as well as the level of teaching and individualized support provided by her professors. It is attributes like these that can help propel a student forward and into a career path, she says.
"My time at MVCC prepared me so well for my future that less than a month after graduation I was employed by Oneida County BOCES after successfully completing a civil service exam," she says. "I was utilizing my secretarial science degree and loving it."
DiBrango found herself immersed in an educational setting with the opportunity to assist in classrooms while waiting for substitute teachers to arrive. "I enjoyed being with the students so much that I began to pursue my four-year degree in the evenings," she says.
She earned her bachelor's degree from SUNY Oswego and her master's degree from Nazareth College of Rochester. She began teaching in 1994 in the Canandaigua City School District, then spent the majority of her 25-year teaching career in the Pittsford Central School District teaching sixth grade, where DiBrango says she felt most at home.
"Once you've taught 100 middle-schoolers a day, you can do anything!" she says. "It is the hardest job in the world but certainly is the most rewarding. For me, having a positive impact on the lives of my students couldn't be beat. Teachers change the world each day. Every interaction with a student has the potential to change that child, and that is serious business."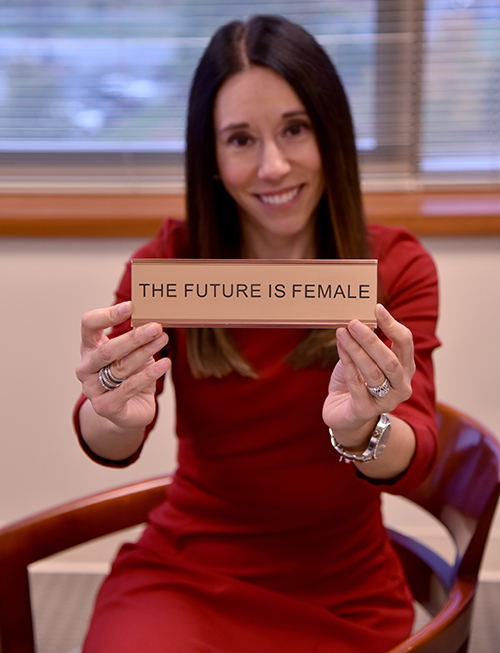 DiBrango became involved in union work when a senior teacher asked her to be a representative. "It was the day after I received tenure as a teacher," she says. "I never forgot that someone else saw something in me that was special. I try to pay that forward every chance I get — particularly for other female unionists."
As a young educator, DiBrango was already aware of the importance of the labor movement, mainly due to the insight of her late grandfather, a staunch believer in the power of the collective and doing the right thing.
"He was the most principled man I have ever known," she says. "He most certainly had a huge influence on me and was the reason I knew about the importance of unions."
DiBrango later was elected president of her local union, and became more involved at the regional level, eventually becoming a trustee with the New York State Teachers Retirement System. She was elected executive vice president of NYSUT in 2017, and now oversees NYSUT's Research and Educational Services Department and the Education and Learning Trust. She also leads NYSUT's advocacy with the State Board of Regents and Education Department, and the NYSUT's Women's Committee.
"Working on NYSUT's women's movement is important to me because our members believe in fairness, equality, safety, access, and representation, and they believe being a part of a union means we can achieve that by working collectively," she says. "I take that very seriously."
DiBrango is currently leading NYSUT's Take a Look at Teaching Initiative to address the teacher shortage in New York State. The initiative aims to attract students and career-changers to the field, increase diversity, and build stronger P-12 and higher education partnerships.
"We are actively working to attract and retain teachers," she says. "Our students want teachers who come from their communities, know what they are going through and know how to help, enlighten and support them. We need talented, creative, smart people to enter the profession and share their experiences with the students of New York State."