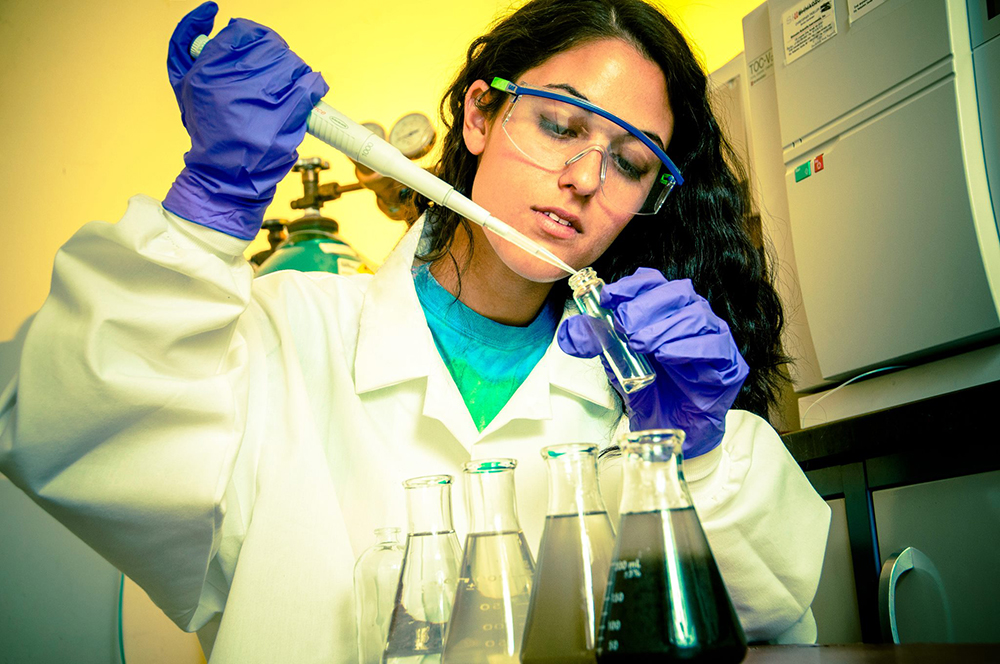 Ashley Waldron uses her passions to help empower
other women in the engineering field
By Jennifer Fanelli
MVCC has proven to be a great starting point for Ashley Waldron '10, who has had a whirlwind five years since she graduated from the Engineering Science program.
She earned her bachelor's and master's degrees in Civil Engineering from Clarkson University, landed her first engineering job at Barton & Loguidice in Syracuse, started her own successful photography business, and most recently, moved across the country for a new job at international consulting firm CH2M in Colorado.
"I was lucky because MVCC had my engineering program as well as classes that supported my passion for photography," says Waldron, a graduate of Whitesboro High School. But she says the small class sizes — no more than 20 students — and affordability were ultimately what sold her on the College. MVCC has the sixth-lowest tuition in New York State, and also offers many scholarships for different types of students.
"It can be hard to pay for school," Waldron says. "But between the numerous scholarships MVCC awarded me and my tutoring position in the math lab, I was able to pay for my college as I went along and didn't need to take out any school loans."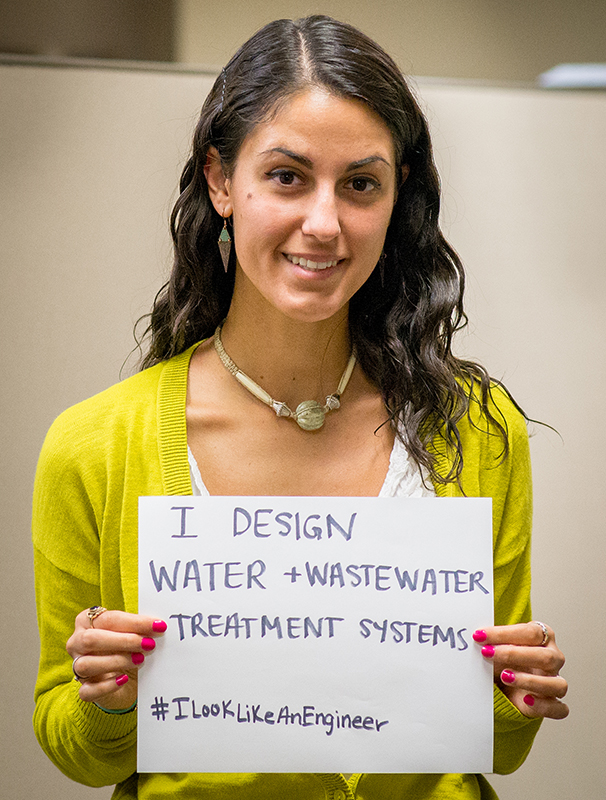 While at MVCC, Waldron earned the MVCC/Clarkson University Transfer Leadership Scholarship, a substantial financial award given to students who demonstrate outstanding leadership qualities and are positive contributors to their school and the community. She earned her bachelor's degree from Clarkson in 2012, continued to work on her master's degree there for two years, then spent a year writing her thesis while working at Barton & Loguidice in Syracuse. She graduated in May with her M.S. in Civil Engineering, and continued to work at the firm until September, when she was offered her new position at CH2M out of Englewood, Colo.
At both companies, Waldron took on the same role: She is a water/wastewater treatment engineer, which means she deals with the transportation and treatment of both drinking water and sewage/wastewater.
"At Barton & Loguidice, I focused more on wastewater treatment, I helped design new water sewer districts so that residents in need would have those services," she says. "At CH2M, I am more focused on water treatment. I jumped on to a few ongoing projects here, where we are helping local municipalities in different ways to treat, store, and distribute their drinking water."
Waldron says knew from the ninth grade that she wanted to be an engineer. She decided in her junior year of high school that she wanted to concentrate on civil engineering.
"My mom says I am one of two people she has ever met that made their mind up in high school about what they wanted to be and stuck with it the entire time in college and never wavered," Waldron says. "I always loved math and science classes in school and enjoyed brainstorming solutions to problems, so to me, engineering was always an appealing job."
She got a jumpstart on her engineering education at Whitesboro High School as part of Project Lead the Way, a track of engineering classes that students take throughout high school. "I took one each year," she says. "I owe a lot of my success to that program and my teacher Adam Smith and his teaching methods."
She says that MVCC and the supportive community she found in the College's engineering program helped to keep her on track. "All of the staff were passionate about their jobs, advisors and supporting staff were always very helpful, and the other students were very driven and positive," she says. "I enjoyed every day that I was in my classes, and the fact that I got to stay at home and have more family time."
Waldron also was able to hone her photography skills while at MVCC. She took Photography 1, which focused on shooting in film and darkroom techniques.
"It was a great experience to learn the basics of photography, composition, and what the different camera settings mean," she says. "That class propelled my understanding and passion for photography, and has stuck with me to this day. Photography is still a big part of my life and job; I commonly shoot work events, and on a personal level, I shoot senior photos, family portraits, and even weddings."
While at MVCC, Waldron was a member of Phi Theta Kappa, the international honor society for two-year colleges, and was named to the President's and Vice President's lists. She also played on the College tennis team and was a tutor in the Math Lab in the Learning Center. She says the support system of professors, Learning Center staff, and her fellow classmates helped her to be successful.
"I had a couple professors twice or more while taking my engineering courses, and those professors knew how to create a bond and understanding with their students," she says, counting Dale Horton, Chris Maxwell, and Joyce Baumann among the group. "Many of the other engineering students and I were tutors in the Math Lab, and it allowed us to practice our math and communication skills. And the group of engineering students I was a part of — we worked hard as a team and helped each other learn concepts, making plentiful studying a positive experience."
Waldron says she felt very prepared when it was time to transfer to Clarkson for her bachelor's degree.
"I always suggest MVCC to others considering the option and tell people that community college was a great choice before I pursued my bachelor's at Clarkson," she says. "MVCC was great to the transferring students when it came to helping us visit different colleges, making sure our credits transferred, and letting us know about scholarship opportunities. Clarkson also gave us a great tour when we visited and made us feel very special. Between both colleges, the transfer experience was absolutely seamless. All my credits transferred, and I received a scholarship to Clarkson as one of the top students in the MVCC engineering class."
Waldron also excelled in her studies and projects at Clarkson.In Spring 2013, she worked with five other students in Dr. Shane Rogers' Environmental Biological Processes class to develop a computer simulation of a local wastewater treatment plant. The class-long project was to digitally replicate the Potsdam Wastewater Treatment Plant by taking samples at different points in the treatment process and using that information to calibrate their model. "It worked out very well and may be used by Barton & Loguidice when they design the new plant additions they are building there," Waldron says.
Waldron has become a role model for girls and women pursuing STEM education and careers, and it's a role she has fully embraced.
"When I talk to students, I make sure to tell them that I was once their age, and that my talk will be about my journey from their shoes to mine," she says. "Not everyone is able to visualize themselves in the place they want to be in five to 10 years, and it can be hard to truly believe it's possible. Role models can help young adults understand their goals in a tangible way, and I hope that my talks inspire students to pursue their goals and show them that it's possible."
Last year, Waldron returned to the Mohawk Valley to speak to several Project Lead the Way classes at Whitesboro, then was the keynote speaker for MVCC's WiSE/STEM Expo, which allowed her to speak about her experience to high school girls. "That was a great experience and I really hope to do more like it," she says. "I think that other women in STEM can pursue similar efforts at their local schools. It's very important."
Waldron also thinks that high school students should be taught about the vast variety of jobs in STEM. "It's a big deal, because many times they aren't aware of just how many kinds of jobs are out there beyond the classic doctor, engineer, veterinarian, nurse, lawyer ..." she says. "Even for me, people would say, 'Hey, you're good at math and science, you should be an engineer,' but in reality, that could have led me in many directions."
Waldron also has found a way to use her position and her passions to help empower other women in the engineering field. In August, she saw a news story about a woman who was chastised for "not looking like an engineer" in an advertisement, which inspired a campaign to break stereotypes in engineering that went viral with the hashtag #ILookLikeAnEngineer.
"It was an unfortunate reminder that not everyone treats both genders fairly," Waldron says. So she put her marketing, social media, and photography skills to work. "I took photos of other women at Barton & Loguidice holding signs stating what they do for their jobs," she says. "I posted the photo on Facebook, and it was shared over 20 times with over 6,000 views. It was really important to contribute to the 'I Look Like An Engineer' campaign because I personally don't enjoy being seen as someone who can't do my job as well as someone else purely because of what I am on the outside."
Waldron says that for her, succeeding in college is about 20 percent brains and 80 percent motivation.
"There are a lot of smart people who stopped their program because they didn't want to pursue it, and there were many hard workers who made it through because they desired to," she says. "I don't think anyone should stop themselves from pursuing a degree or job because they think they aren't smart enough. If you really want it, then you've already accomplished 80 percent of the battle."