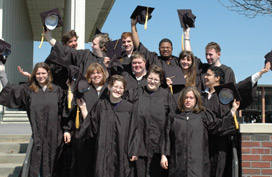 CollegeWorks is a collaborative project between The Arc, Oneida Lewis Chapter, and MVCC for individuals with disabilities. It is a non-degree, non-credit two-year college based vocational program located on MVCC Utica and Rome campuses.

CollegeWorks Students will
Develop marketable work skills
Learn self awareness and self advocacy skills
Improve communication skills
Improve relationship-building skills
Become motivated workers who understand the responsibilities of employment
Application process includes completed application, student interview, personal/work recommendations and a two day classroom visit. All individuals must submit complete application materials, including a signed physician's report/examination and educational assessments.​