Applications for the 2019 MVCC Math Corps Summer Camp are now available!
Current 6th, 7th, and 8th grade Utica students are eligible for the camp, which runs July 8th, 2019 - August 1st, 2019, and meets Mondays - Thursdays.
Spots are filling up fast, so return your application as soon as possible!
Click to download the summer camp application
Spots are filling up fast, so return your application as soon as possible!
Goal of MVCC Math Corps
MVCC Math Corps is designed to help Utica middle school and high school students develop a love for learning in a safe, family-like environment at the college. Through strong mentoring relationships, the program builds a self-perpetuating corps of students from middle school through college, who excel academically, hold personal values that breed success in general, and who pass their knowledge and their values on to younger students. As they grow, those younger students do the same.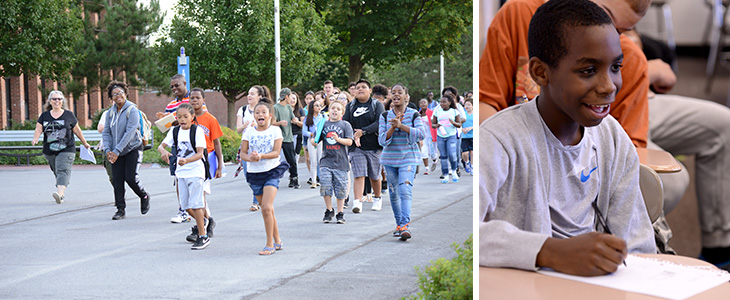 The National Science Foundation (NSF) awarded a four year $3 million grant to Math Corps, a partnership that includes Mohawk Valley Community College, Wayne State University in Detroit, Cleveland State University, and a not-for-profit organization in Philadelphia. Summer camp participants learn together in a four-week intensive summer camp that includes classroom instruction and fun project-based learning activities.
Math Corps' Staff Members
High school and college students, as well as professional staff members, are trained by Wayne State University's Math Corps team. Math Corps was originally developed in the 1990s by a team at Wayne State University, with the goal of creating a combined academic enrichment and mentoring program that could bring middle and high school students from urban centers together with college students to learn mathematics from each other, as well as to interact with professional mathematicians in a university setting. Math Corps received the prestigious 2016 New York Life Excellence in Summer Learning Award, sponsored by the National Summer Learning Association.