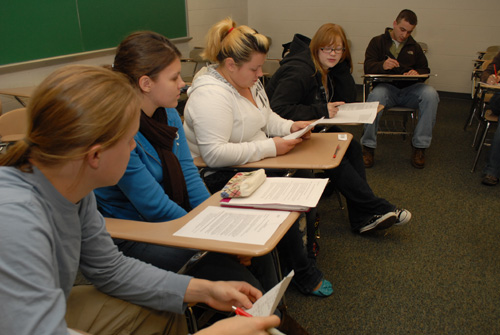 Course Syllabi
For each course offered at MVCC, one course outline has been developed and maintained (reviewed / revised yearly) in the Outlines file. You may access the Outline for the course you are teaching by going to https://banner.mvcc.edu/ and logging into the secure area of SIRS. Click on the Registration menu and then the first menu for Outlines and search for your course outline file under the proper course prefix. If you do not find an outline for the course you are teaching, please contact the Dean of your School.
You must develop a syllabus for each class that you are teaching. At a minimum, your syllabus for each class you teach should include the following information:
Course Name / Number / Room # / Times offered
Syllabi Author - Instructor name / contact information / office hours
Credits allocated: Credit Hours 3 (example)
Prerequisites: (If none state it)
Course description:
Course objectives / Learning Outcomes:
Assignments – Tests – Quizzes – etc. should be listed here

Method of assessing student achievement including the assessment rubrics at the course and project levels: and total allocation for each assessment (Example: Test = 30%, final project = 20%, research paper 20%, Attendance = 10%, Quizzes = 20% each area must have specifics) could have journals, class participation or anything else you use to assess!
Weekly Reading / Assignments / Quiz / Test Due Dates:
Week 1
Week 2
Week 3
Week 4
Week 5
Week 6
Week 7
Week 8
Week 9
Week 10
Week 11
Week 12
Week 13
Week 14


Attendance policy should be stated and if counted as a portion of their grade!
Basis of grade determination:
A 100-90
B 89-80
C 79-70
D 69-60
F 59-0
Bibliographic – Text Book - other resources
Other course policies related to integrity of credit
MVCC's Policies
You NEED to look it over to ensure the information is accurate for each semester and MUST be included!
Who Receives My Syllabus?
Please send a copy of your syllabi to the appropriate College Services Associate where they will be stored in the Outlines account in the appropriate term folders.