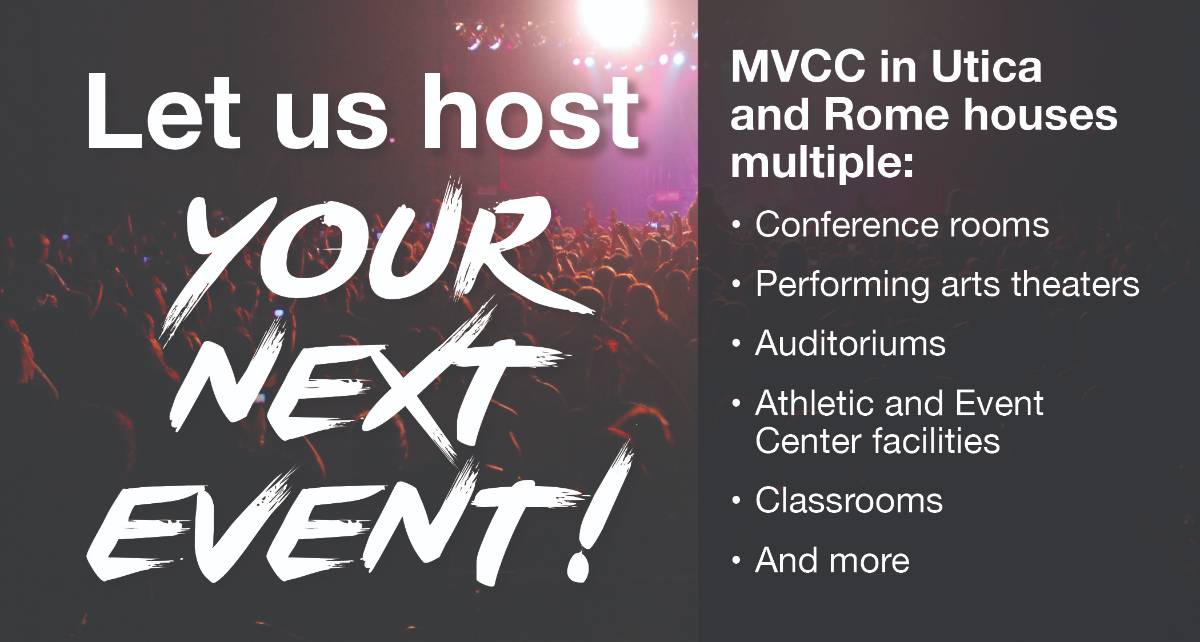 Events and Guest Services Facility Use
With campuses in both Rome and Utica, N.Y., MVCC is the perfect place to host your next event. Our team will walk you through the coordination of your event from start to finish. Catering options available!
COVID-19 update
For the safety and well-being of our students, employees, and guests, only those who are fully vaccinated against COVID-19 are permitted to attend on-campus events, including Cultural Series and external rental groups. Individuals not currently eligible for a vaccine (i.e. children younger than 12) cannot currently attend on-campus events within our facilities. Guests must show proof of vaccination using the digital New York State COVID-19 Vaccination Excelsior Pass or show the official hard copy of their COVID-19 vaccination card. All guests also must wear facial coverings/masks regardless of vaccination status.
Click here to fill out a Facility Use Request Form.
Please note: MVCC's facilities are available to both on- and off-campus groups; however, on-campus groups and educational departments have first priority. If you are an MVCC employee planning an event, click here.
See available Utica Campus facilities.
See available Rome Campus facilities.
Facility Use Policies and Procedures
American Dining Creation catering
Contact Us
Rome Campus - Facilities Use
Bella Popowski, Coordinator of Events and Guest Services
Phone: 315-334-7782
Email: bpopowski@mvcc.edu
Utica Campus - Facilities Use
Erica Carrock, Assistant Director of Events and Guest Services
Phone: 315-731-5720
Email: ecarrock@mvcc.edu
Administration and Billing
Bill Dustin, Director of Events and Guest Services
Phone: 315-731-5840
Email: bdustin@mvcc.edu