Maria I. Kontaridis, Ph.D.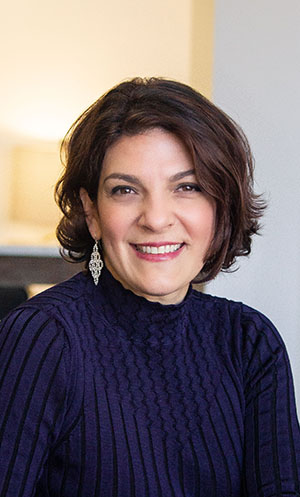 Dr. Maria Irene Kontaridis is the Executive Director, Gordon K. Moe Professor and Chair of Biomedical Research and Translational Medicine, and the Director of Research at the Masonic Medical Research Institute in Utica, NY. She also holds a part-time faculty appointment as an Associate Professor of Medicine at Harvard Medical School and Beth Israel Deaconess Medical Center, Department of Medicine/Division of Cardiology in Boston, MA. Dr. Kontaridis received her undergraduate degrees (B.A. and B.S.) from the University of Florida in Classics and Chemistry, and subsequently obtained her master's degrees in Pharmacology and Biomedical and Biological Sciences from Yale University in 1999 and 2001, respectively. In 2002, she was awarded a Ph.D. from Yale University. In 2015, she was named Director of Basic Cardiovascular Research at BIDMC and in 2016 was promoted to Associate Professor of Medicine at Harvard Medical School. In 2018, Dr. Kontaridis became the Director of Research at the Masonic Medical Research Institute in Utica, NY, and in 2020 was promoted to Executive Director. Dr. Kontaridis' independent research program focuses on the fundamental mechanisms underlying congenital heart disease and end-stage heart failure, as well as the processes that lead to abnormal development, aberrant signaling and disease onset of lupus, gastrointestinal disease, autism, and cancer.
Efforts in the lab utilize a myriad of tools and techniques including iPS cells, in vivo mouse model systems, and molecular biology techniques. Together, these provide valuable mechanistic and functional information in understanding the differential signaling pathways that cause disease and allow for an individualized approach to therapeutic targeting. Specifically, the lab is focused on 1) Understanding the functional mechanisms associated with SHP2 activity in the development of Systemic Lupus Erythematosus (SLE); 2) Elucidation of the cardiomyogenic defects associated with Noonan (NS) and Noonan Syndrome with Multiple Lentigines (NSML) Syndromes; 3) Determining the phosphataseindependent functions of SHP2 in development and disease, and 4) Deciphering the cardioprotective effects of the small G protein RhoA in the failing adult heart. Her work has been awarded grants from the Milton Foundation, the Children's Cardiomyopathy Foundation, the Saving Tiny Hearts Foundation, the Harvard Stem Cell Institute, the Alliance of Lupus Research, Lupus and Allied Diseases, Inc, the American Heart Association (AHA), Department of Defense (DOD), and the National Institutes of Health (NHLBI-R01s and NCATS-TRND), as well as has garnered support from industry and pharmaceutical companies (Onconova, Novartis, GSK, Arqule).
Dr. Kontaridis is also actively involved in the medical and research community and has established herself in several significant leadership roles. In Boston, she served as co-chair for the Joint Committee on the Status of Women at Harvard Medical School, an important group dedicated to the development and leadership of women in the Harvard community. In addition, she also served as Chair of the Research Safety Committee at BIDMC, dedicated to development of proper work ethics and safety policies for research scientists. Dr. Kontaridis also served as a member of the Harvard Medical School Biomedical and Biological Sciences Faculty Program. She currently maintains her faculty appointment at Harvard Medical School and has a joint appointment in the department of Biological Chemistry and Molecular Pharmacology and with the Leder Human Biology and Translational Medicine Program of Harvard Medical School. Locally, she serves on the Boards of the Mohawk Valley Economic Development Enterprises and the Kelberman Foundation (Autism). More nationally, Dr. Kontaridis is an appointed Fellow of the AHA, and she served as Chair of the Early Career Committee for the Basic Cardiovascular Sciences Council (BCVS), Chair of the AHA Early Career Councils on the Council of Operations Committee, and the Manuscript Oversight Committee for the AHA. She is currently serving as Vice-Chair of AHA BCVS Leadership Council. Dr. Kontaridis is also an elected Council member and Fellow for the International Society for Heart Research-North American Section; she is currently the Secretary of the ISHR North American Section Leadership Committee. She has also co chaired and organized the Weinstein Conference for Developmental Cardiology in 2015, the AHA BCVS Summer Conference in 2016, and is the co-chair for the Olympiad in Cardiovascular Medicine Symposium in Athens, Greece, which occurs every 4 years.