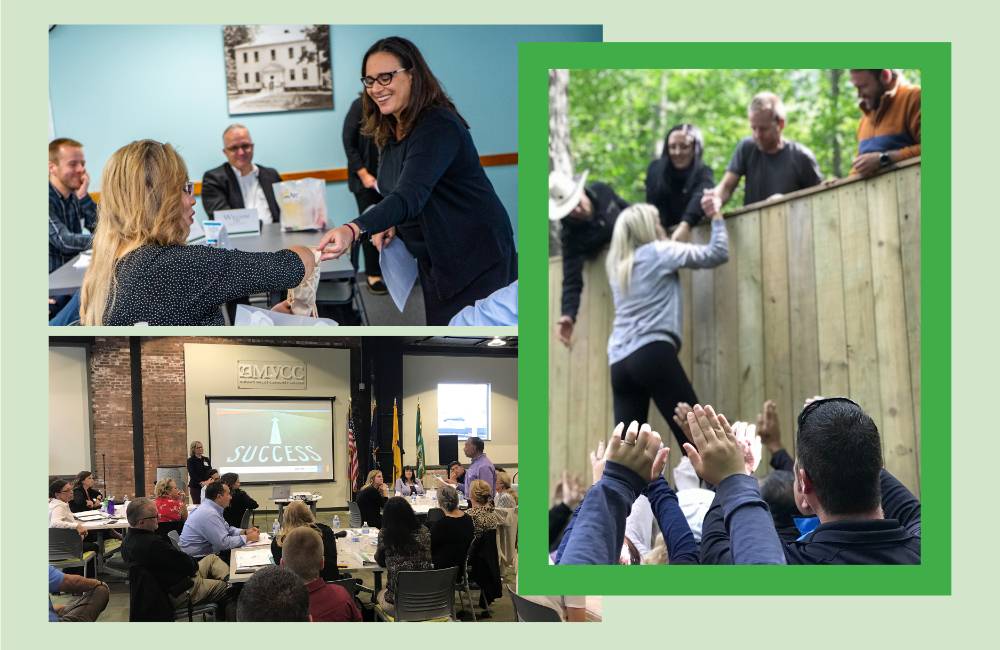 Connect with other leaders and influencers driving innovation and making a difference in the Mohawk Valley. Discover the impact you and your organization will make today and tomorrow. Be inspired and inspire others to play a greater role in our community.
Find the CLE experience that is right for you.
ESTABLISHED PROFESSIONALS
Connect. Lead. Engage.
View the Mohawk Valley in ways you have never had the opportunity to do before. Investigate important local issues and opportunities to gain a greater appreciation of the interconnectedness of the area's businesses, and non-profit and governmental organizations. Meet the innovators and influencers from the Mohawk Valley and get a behind-the-scenes look at the remarkable work they are doing to change the landscape of our region. Be inspired and inspire others to make a difference.
EARLY-CAREER PROFESSIONALS
Unlock your potential.
Discover the impact one person can make on organizational culture. Learn to maximize your individual strengths in order to expand your professional and community involvement.
MID-CAREER PROFESSIONALS
From Supervisor to Super Influencer.
Develop a more advanced understanding of leadership principles and build a supervisory tool-kit to maximize your team's performance. Identify strategies for motivating team members, navigating difficult conversations, and coaching for high performance. Explore the contrast between authority and leadership and what that difference means to your team. Supervisors Institute will move you beyond a supervisory manager role to becoming an influential leader.
SENIOR-LEVEL PROFESSIONALS
Discover ingenuity and find inspiration.
Get a behind-the-scenes look at the innovative and inspiring organizations in the Mohawk Valley and across the country. Engage in conversation with some of the country's most innovative companies to discover how embracing risk and dealing with disruptions has propelled them to new heights.
BLACK and LATINX ADULTS FROM THE UTICA AREA
Be a change-maker.
Harness your passion and amplify your voice to make an impact on the community. Sharpen your leadership skills and strengthen your network as you engage in conversation with local business and community leaders.
ADULTS OF ALL AGES
Bring your unique perspective to the table.
Bring your diverse perspectives, skills, and experiences to the non-profit organizations in the Mohawk Valley. Fine-tune your skills or prepare for board service with a greater understanding of board governance, best practices of high performance boards, and nonprofit organizational structure.
Finish Strong
HIGH SCHOOL AND COLLEGE STUDENTS
Discover your superpowers.
Discover your personal strengths and what makes you unique. This experience will unlock the superpowers within you and lead you down a path to use those powers wisely.