Program information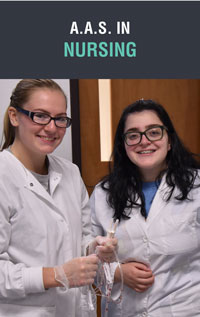 MVCC's Nursing Associate in Applied Science degree program educates professional nurses at the associate level to practice in collaborative or leadership roles in hospitals as well as clinics, mental health facilities and long-term care. Our graduates enter the work force with confidence and compassion, and are often sought-after by area and regional employers.
MVCC's nursing program is designed for students interested in performing the duties associated with being a Registered Nurse. Graduates receive an Associate in Applied Science degree, are prepared as beginning practitioners in nursing, and are eligible for the RN New York State licensing examination. Upon completion of the program and the RN licensure, graduates can get a job in nursing anywhere in the United States.
National and/or state legal requirements for eligibility for licensure or entry into the nursing profession
MVCC Nursing Program Student Outcomes:
| | | | |
| --- | --- | --- | --- |
| May | 2020 | 2021 | 2022 |
| Graduation Rate | 46.55% | 88% | 65.63% |
| First-time Licensure Pass Rate | 96.3%** | 80.4% | 90.48% |
| Job Placement Rate | 93% | 100% | 100%; |

**2020 Graduate Cohort: 96.3%
See the Nursing Student Handbook.
See semester-by-semester degree plan, as well as end-of-program student learning outcomes.
How to apply for Nursing
Admission to the Nursing AAS degree program at MVCC is a competitive and time-sensitive process. For complete instructions on how to apply for the Nursing program at MVCC, click here. Students also must be able to perform all essential functions listed here.
Important: Health requirements for some Health Sciences programs differ from MVCC health requirements. Click here for more information.
In order to be considered for admission to this program, prospective students must meet all of the following requirements prior to beginning their nursing studies.
Prerequisites
Minimum
High school diploma or its equivalent
A current overall college GPA of 2.8 or high school average of 85
Math
A minimum SAT math score of 500, or
A minimum ACT math score of 19, or
An appropriate math placement test score at MVCC that will allow the student to enroll in a college level math course, or
A letter grade of C or better in MVCC math course MA090 or MA091 taken within seven years, or
A letter grade of C or better in a college level math course (100 level plus) taken within seven years at another college
Chemistry
High School Chemistry with a final grade and/or Regents exam score of a 75 or higher required for Nursing consideration, or
A minimum final grade of C in both CH111 and CH112 taken within seven years, or
A minimum final grade of C in a lab based college level chemistry course taken within seven years
ATI TEAS Score
* Prerequisites can be taken at other colleges. Consult the School of Health Sciences Office to find out if those classes meet the minimum criteria.
Transfer options
Alfred State College
Le Moyne College
The Sage Colleges
St. John Fisher College
SUNY Polytechnic Institute
SUNY Upstate Medical University
Career opportunities
Registered nurse
Acute care nurse
Advanced practice psychiatric nurse
Internship opportunities
Students begin clinical experience their first semester and continue until they graduate. Students will accumulate more than 500 hours of clinical experience while attending the program.
Accreditation
The Associate in Applied Science (AAS) Nursing Program at Mohawk Valley Community College at the Utica Campus, located in Utica, New York, is accredited by: Accreditation Commission for Education in Nursing (ACEN) (3390 Peachtree Road, NE, Suite 1400, Atlanta, Georgia 30326. Telephone: 404-975-5000, Fax: 404-975-5020, website: www.acenursing.org, email: info@acenursing.org), The most recent accreditation decision made by the ACEN Board of Commissioners for the Associate in Applied Science (A.A.S.) degree nursing program is Continuing Accreditation. The nursing program is registered by the New York State Education Department, Office of the Professions.
Contact Information for ACEN:
3390 Peachtree Road NE, Suite 1400
Atlanta, Georgia 30326
Phone: 404-975-5000
Fax: 404-975-5020
www.acenursing.org
Program Mission Statement
The Nursing Program cultivates and transforms lives by providing affordable high quality educational opportunities for a diverse student population. This will be accomplished by:
Embracing our community and partners
Faculty modeling the way
Inspiring confidence
Encouraging excellence through lifelong learning.
Program Vision Statement
To be the leading innovative program in the Mohawk Valley to prepare safe, competent, autonomous nurse leaders who will engage in lifelong learning to improve the health of people within the Mohawk Valley and global communities.
Contact Us
Michelle Parker, Freshman Level Coordinator
Email: mparker@mvcc.edu
Phone: 315-792-5626
Office: Academic Building room 175, Utica Campus
Sam Lilly, Senior Level Coordinator
Email: slilly@mvcc.edu
Phone: 315-792-5557
Office: Academic Building room 175, Utica Campus