Program information
MVCC's Health Information Technology (HIT) program prepares students with skills and knowledge to obtain entry-level positions as health information technicians in a variety of health care settings. Students will be provided with appropriate background in health information management and general education courses, including anatomy and physiology, computer concepts and applications, medical terminology, pathophysiology, and pharmacology, all of which are necessary to begin a health information management career. Program graduates become experts in managing data content, structure, and standards; protecting patient health information, including access, disclosure, archive, privacy, and security; using information, analytics, and data; managing the revenue cycle management; implementing regulations; serving in a leadership capacity.
Retention and Graduation
Retention and graduation results are based on the IPEDS Right-to-Know (RTK) cohort, students that are:
Enrolled in college for the first time
Enrolled full-time (at least 12 credit hours)
Matriculated into a program, in this case Health Information Technology
Retention
MVCC was not accepting students into HIT between 2007 and 2017. There were no first-time enrollees in HIT in Fall-2017.
| | | |
| --- | --- | --- |
| Fall Semester | 2nd Semester Retention | 3rd Semester Retention |
| Fall 2005 | 75% | 50% |
| Fall 2006 | 100% | 100% |
| Fall 2007 | 50% | 33% |
| Fall 2017 | N/A | N/A |
Graduation
Graduation rates include students completing the program in 150 percent of normal time. HIT is a two-year program, therefore graduates are students completing in three years.
| | | |
| --- | --- | --- |
| Fall Semester | Students | Graduates |
| Fall 2005 | 4 | 0 |
| Fall 2006 | 1 | 0 |
| Fall 2007 | 6 | 1 |

Employment
Employment data are based on an internal survey of graduates.
Grad Year
Grads
Survey Respondents
Related Employment
Unrelated Employment
Seeking
Work
Not
Seeking
Work
Transfer
2006-07
3
3
1
1
1
0
0
2007-08
4
3
0
1
0
0
0
2008-09
3
1
1
0
0
0
1
2009-10
6
4
2
1
0
0
1

See semester-by-semester roadmap, as well as end-of-program student learning outcomes.
Prerequisites
All applicants must meet or be working toward the completion of the following prerequisites at the time of application:
Minimum
High school diploma complete, in progress, or its equivalent and the most recent of the following:
A current overall college grade point average (GPA) of 2.0 (minimum of 12 credits)
High school average of 75 Math
An SAT math score of 530 or higher, OR
An ACT math score of 19 or higher, OR
An appropriate MVCC Mathematics Placement test result, OR
A minimum grade of C or better in a college-level mathematics course taken within the last seven years
Recommended
High school chemistry with a lab or a college-level chemistry course completed within the last seven years is recommended but not required.
High school biology with a lab or a college-level biology course completed within the last seven years is recommended but not required.
Keyboarding and Microsoft Office Professional are recommended but not required.
Prerequisites can be taken at other colleges. Please consult the Advisement Office to determine if those classes meet the minimum criteria. Credit-bearing prerequisite courses will require a minimum grade of C or better.
Accreditation
The health information technology program is accredited by the Commission on Accreditation for Health Informatics and Information Management Education (CAHIIM), 233 N. Michigan Avenue, 21st Floor, Chicago, IL 60601-5800, 312-233-1100, www.cahiim.org. CAHIIM accredits associate and baccalaureate degree programs in health information management, and master's degree programs in the health informatics and health information management professions in the United States and Puerto Rico. CAHIIM is recognized by the Council for Higher Education Accreditation (CHEA), One Dupont Circle NW, Suite 510, Washington, DC 20036, 202-955-6126, chea@chea.org. CHEA is a national advocate and institutional voice for self-regulation of academic quality through accreditation.
Mohawk Valley Community College is accredited by the Middle States Commission on Higher Education, 3624 Market Street, Philadelphia, PA 19104, 215-662-5606, www.msche.org.
Contact Us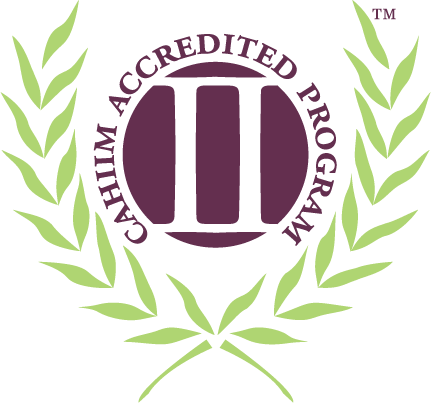 Health Information Technology program Coordinator and Assistant Professor Karen Getman, MS RHIA
Office: Payne Hall 369
1101 Sherman Drive
Utica, NY 13501
Phone: 315-792-5378
Fax: 315-731-5855