Program information
If your interest is healthcare, data management, or medical coding and reimbursement, MVCC's Health Information Technology (HIT) program will provide you with the skills needed to begin a career as a health information technician in a variety of health care settings. The program is available completely online, and you will also gain work experience by completing a 100-hour Professional Practice Experience, which is an on-site learning opportunity that will provide a real-world experience in your post-graduate career.
The program provides students with a strong background in health information management as well as general education courses, including anatomy and physiology, computer concepts and applications, medical terminology, pathophysiology, pharmacology, and math statistics, all of which are necessary to begin a health information management career. Graduates are eligible for entry-level positions in data structure and content management, and information governance; information protection, which includes access, use, disclosure, privacy, and security; information, analytics, and data use; revenue cycle management; health law and compliance; and organizational management and leadership.
Graduation
• HIT Graduation Rate: 40%
• HIT Retention Rate: 50%
According to the Department of Institutional Research and Analysis, the definition of graduation rate is based on 150% of time to graduation (three years) and the definition of retention rate includes graduated plus progressing students
Program Outcomes
Reporting Period: Aug. 1, 2021–July 31, 2022
Employment & Transfer Rate: 82% (73% employed six months after graduation, 9% transferred to a four-year undergraduate program)
Program Satisfaction of Graduate Survey: 83% of HIT graduates indicate they agree the HIT program quality prepared them to be health information management (HIM) professionals and 17% indicated they changed their mind about the HIM profession and continued their education in a releated health care filed.
RHIT Certification Exam Pass Rates: 67% of the students who sat for the RHIT exam passed on the first attempt, which is similar to the national average.
Accreditation Statement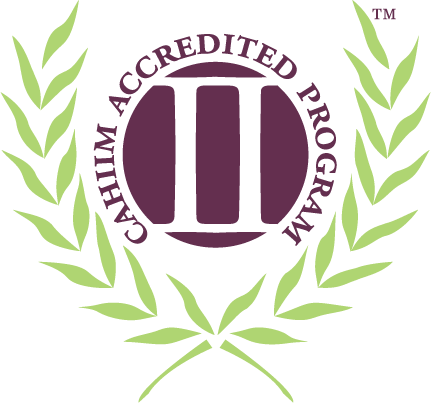 The Health Information Technology accreditor of Mohawk Valley Community College is the Commission on Accreditation for Health Informatics and Information Management Education (CAHIIM). The College's accreditation for Associates degree in Health Information Technology has been reaffirmed through 2028-2029. All inquiries about the program's accreditation status should be directed by mail to CAHIIM, 200 East Randolph Street, Suite 5100, Chicago, IL, 60601; by phone at (312) 235-3255; or by email at info@cahiim.org.
Mohawk Valley Community College is accredited by the Middle States Commission on Higher Education, 1007 North Orange Street, 4th Floor, MB #166, Wilmington, DE 19801, www.msche.org.
CAHIIM Certificate of Accreditation
See semester-by-semester roadmap, as well as end-of-program student learning outcomes.
Prerequisites
All applicants must meet or be working toward the completion of the following prerequisites at the time of application:
Minimum
High school diploma complete, in progress, or its equivalent and the most recent of the following:
A current overall college GPA of 2.0 (minimum of 12 credits)
High school average of 75
An SAT math score of 530 or higher, OR
An ACT math score of 19 or higher, OR
An appropriate MVCC Mathematics Placement test result, OR
A minimum grade of C or better in a college-level mathematics course taken within the last seven years
Recommended
High school chemistry with a lab or a college-level chemistry course completed within the last seven years is recommended but not required.
High school biology with a lab or a college-level biology course completed within the last seven years is recommended but not required.
Keyboarding and Microsoft Office Professional are recommended but not required.
Prerequisites can be taken at other colleges. Please consult the Advisement Office to determine if those classes meet the minimum criteria. Credit-bearing prerequisite courses will require a minimum grade of C or better.
Transfer options
Graduates have successfully transferred to:
SUNY Polytechnic Institute
Career opportunities
Medical coder
Electronic health record training specialist
Clinical documentation specialist
Health information manager
Health information technician
Practice workflow implementation specialist
Project manager
Reimbursement specialist/medical biller
Privacy/security officer
This report is a U.S. salary survey conducted by the American Health Information Management Association (AHIMA) that provides a snapshot of compensation for health information professionals.
Program Mission Statement
The online Health Information Technology program provides high quality education in health information management that is responsive to the needs of the communities of interest and meets the diverse learning and scheduling needs of students. The program curriculum offers opportunities for students to demonstrate the knowledge and skill-based competencies required for successful completion of national certification exams and for employment as health information technicians in a variety of health care settings.
The Health Information Technology program was an exciting venture for me to expand my knowledge in healthcare for a field I truly love...The Instructors are always available to help you understand the material and answer any questions you may have which was imperative to my success.
The HIT program is extremely diverse in its course work, offering flexibility and support every step of the way!
This program provided me with the skills and knowledge I need to work in this field... I recommend it to everyone looking for a change in their career. It changed my life, it can change yours too!
Administration is very supportive of the program and faculty members an try to respond to identified needs.
Students are enthusiastic about the program. They were very complimentary of the seasoned faculty with whom they have developed working relationships. They indicate that both are very professional and passionate about the program and HIM. Additionally, stating they are easily accessible, promptly respond to their inquiries, willing to assist, and have a vested interest in their success. Students also very complimentary of Justin Rahn, the Holistic College Support Advisor.
Having a second-year student to function as a tutor is an excellent idea to ease program entry for the first-year students.
Articulation agreements in place with SUNY Polytechnic Institute and CUNY School of Professional Studies.
The health information courses of the HIT program were especially helpful with my transition to the Patient Access rep position in the Emergency Department. Due to the excellent training I received at MVCC, I was able to quickly and efficiently integrate into the position.
The HIT program gave me the foundation to have a professional mindset. The instructors had faith in me and pushed me even in times I was struggling to have a student/life balance. I truly enjoyed and recommend the program to anyone interested in Health Information Technology.
Contact Us
Interim Program Coordinator and Instructor Heidi Palmiter
Email: hpalmiter@mvcc.edu
Fax: 315-731-5855