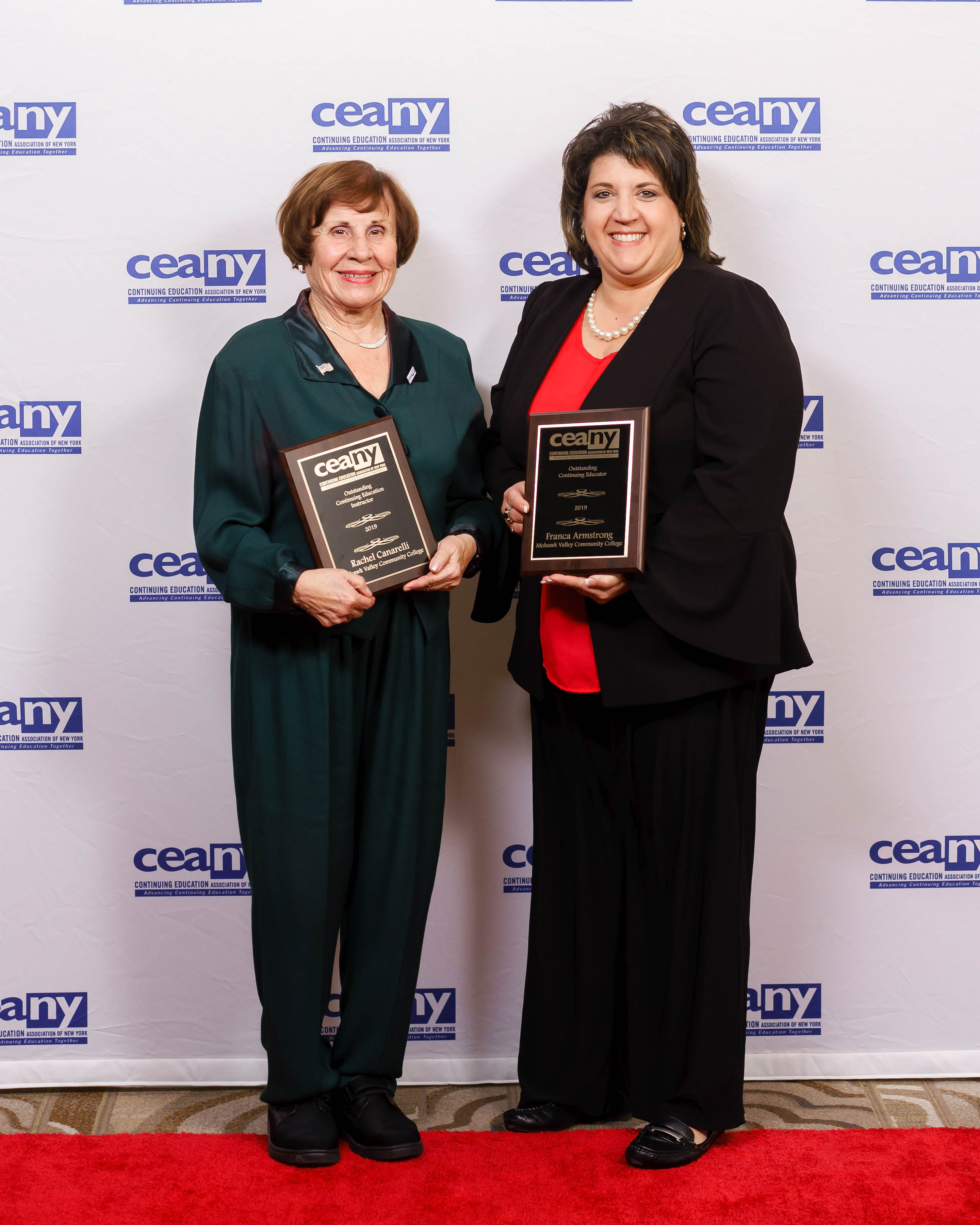 Mohawk Valley Community College's Center for Corporate and Community Education and MVCC student Hawa Jabril received awards from the Continuing Education Association of New York (CEANY) at its annual conference in early November.
Franca Armstrong, MVCC Assistant Vice President of Workforce Development and Dean of the Rome Campus, won the award for Outstanding Continuing Educator. This award recognizes an individual who has made exemplary contributions to the general field of continuing education on a state, national, or international level. The focus of this recognition is on contributions of a general nature that extend beyond CEANY activities.
"Franca Armstrong is the true embodiment of an outstanding continuing educator," said Carolyn DeJohn, assistant director of community education at MVCC. "Her commitment to fund MVCC's education activities in the local community has led to the growth of programming and partnerships that are helping a variety of populations move toward opportunity. Franca has been an inspiration to her staff by living out a simple maxim – that if a program can help one person and change one life, it is worth whatever needs to be done to make it happen."
Rachel Canarelli, who has taught non-cedit phlebotomy classes at MVCC for more than 30 years, won the Outstanding Continuing Education Instructor award for making exemplary contributions in support of teaching continuing education students and programs.
"I cannot think of another instructor training the workforce who is more committed to education and student success than [Rachel]," said Armstrong. "This year we offered professional development for our instructors to improve their Powerpoint presentation skills and gain additional resources for students with disabilities. Rachel took time to come to the session and was eager to apply these concepts. This evidence of her growth mindset is what community education is all about."
MVCC student Hawa Jabril won the Region East Charles Burns Outstanding Adult
Student Award for achieving excellence by demonstrating persistence, drive, and success in overcoming obstacles to achieve her educational goals. Regional winners also receive a $1,000 scholarship. Jabril moved to the United States at the age of five after spending her whole life in a refugee camp in Kenya. After years of being denied schooling, having to care for elderly family members, and being told she shoul
d only focus on getting married and having children, Jabril earned her associate degree from MVCC and plans to pursue an additional nursing degree.
"[Hawa] impressed me very much as a student, and even more as I learned of her childhood and the everyday challenges at home the entire time she studied at MVCC," said Thomas Schink, assistant professor of mathematics at MVCC. "I have no doubt that Hawa will excel and be an amazing nurse."