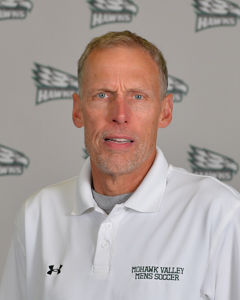 Mohawk Valley Community College Associate Professor and longtime Coach Bob Gould was recently named to the NJCAA Soccer Coaches Association Hall of Fame.
Gould has been a member of MVCC's Athletic and Physical Education programs for 40 years — 38 of which he spent as the head coach of the Men's Soccer program. During this time, Gould amassed a record of 366-209-37, and eight of his players were recognized as NJCAA All-Americans. His teams were consistently in the top four of Region III, one of the most competitive regions in men's soccer in the country. Gould also has coached baseball and men's tennis during his tenure at the College.
Gould, who joined MVCC's Physical Education Department in 1979, earned the academic rank of Associate Professor and taught most of the courses in the curriculum, serving not only as a knowledgeable and supportive instructor for MVCC students, but also as a tremendous role model in every aspect of his profession. He also has served on many College committees and is actively involved in charitable events, most notably the Ted Moore Run/Walk event that raises awareness to educate and combat drunk driving.