Mohawk Valley Community College's Foundation inducted four new members into its Hall of Fame during a ceremony on Nov. 12 on the Utica Campus.
This year's inductees, who have made significant contributions that have a lasting effect on the development, progress, and success of MVCC, are: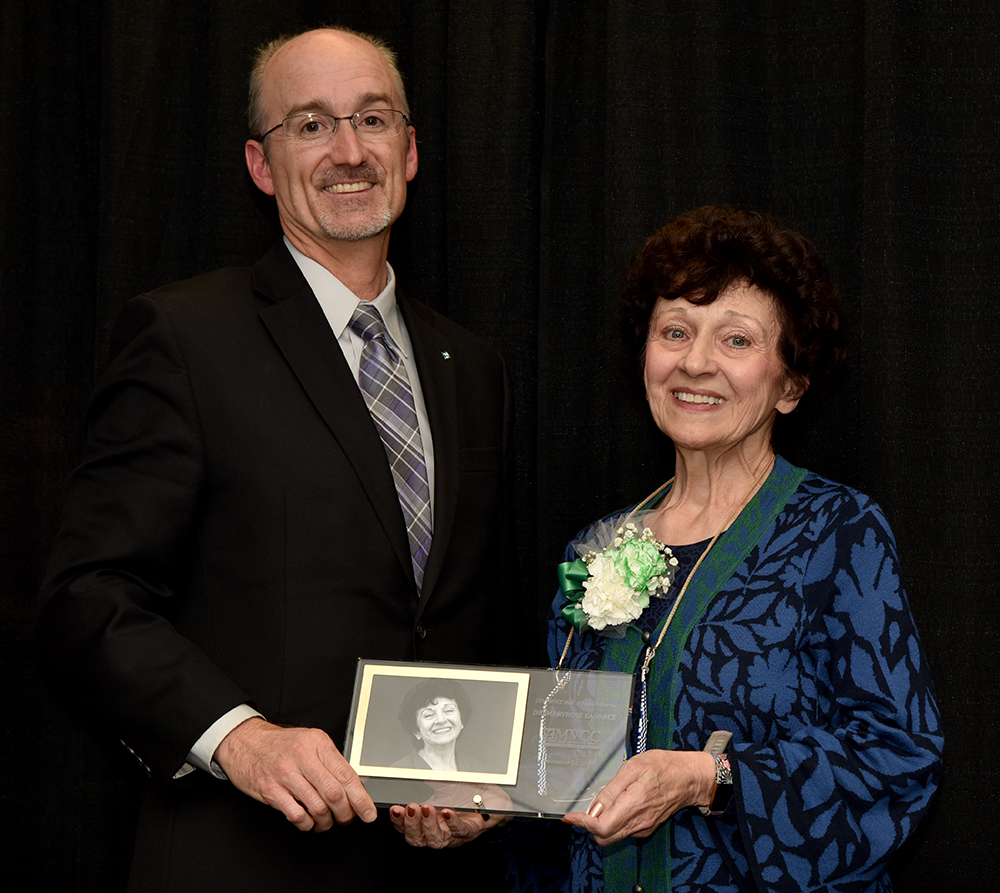 Vice President Emerita Dr. Maryrose Eannace has had a career in education spanning nearly 30 years. She most recently served at MVCC as Vice President for Learning and Academic Affairs and an adjunct instructor, and has held administrative and faculty positions at Skagit Valley College in Washington, Cazenovia College, SUNY Polytechnic Institute, and Munson-Williams-Proctor Arts Institute. During her time at MVCC, Eannace was laser-focused on student success. She was the driving force behind multiple programs and initiatives, a strong supporter of MVCC's chapter of Phi Theta Kappa, and has further shared her expertise through numerous publications, including two college textbooks and two textbooks for junior high and high school students. Eannace served as an Executive Board member of the National Council of Instructional Administrators (NCIA) and as a Commissioner on the Academic, Student and Community Commission. Locally, she served many years on the Board of Student and Business Alliance, a BOCES program. Her efforts and achievements have been recognized nationally, and her accolades include winning and becoming the namesake for the NCIA's Outstanding Service to Community Colleges award in 2019.
Administrator/Professor Emeritus Frank Przybycien spent 45 years in service to MVCC, serving as Professor for more than 20 years, head of the Engineering Technology and Trades Department for another 20 years, and then Director of Community Restoration Initiatives until retiring in 2012. His service to MVCC resulted in community partnerships and led to transfer agreements and a reputation of distinction for program graduates. Przybycien served on the Technology Accreditation Commission of the Accreditation Board for Engineering and Technology and as an Accreditation Observer for the American Society of Civil Engineers for 25 years, during which he worked on accreditation of new technology programs in Dubai and Abu Dhabi. Przybycien was a visionary who consistently went above and beyond in his efforts to expand MVCC's impact. He authored a textbook on surveying and field operations to better serve his students, and his partnership development efforts were a key factor in the launch of several programs and initiatives. His outstanding service to the community has been recognized with several awards, including the 2009 Genesis Educator Award, induction into the Oneida County History Center Hall of Fame in 2013, the Bagg's Square Association Legacy Award in 2014, and induction into the Oneida City School System Wall of Distinction in 2019.
Professor Emeritus Robert Decker '73 spent 20 years at MVCC, moving up the academic ranks from Instructor to Professor and Director of Engineering Technologies until his retirement in 2016. During his tenure, Decker played a pivotal role in guiding the College's Engineering Technologies and Trades Department through a transformative time of technological advancement and education. In addition to critically important work in maintaining accreditation for engineering technology programs, he served as lead faculty member for initiatives such as course and program development in solar energy, semiconductor manufacturing technology and mechatronics, providing key insight and motivation to research, develop and launch critically important coursework at the College. He also served as the lead faculty member in a long-running partnership with Verizon to implement a customized training program. In addition to internal projects, Decker was active in developing partnerships with other higher education institutions and organizations focused on technology, trades, and engineering education. He served as the Principal or Co-Principal Investigator for multiple National Science Foundation projects, including a regional Northeast Advanced Technological Education Center at SUNY Polytechnic Institute. He is the co-inventor on a U.S. Patent for universal connectors for rechargeable and non-rechargeable batteries and led the effort to navigate rapid transformations in technology through educational programming, curriculum development, and maintaining high standards for accreditation.
Professor Emeritus Michael Sewall served in a variety of roles for 35 years at MVCC, beginning as a faculty member before working his way up to administration and finally returning to professorship for an additional 15 years before retirement. He made exceptional contributions as a Human Services and Psychology department professor, notably guiding a major internship requirement that he spent countless hours molding into an outstanding experiential learning opportunity for students. Sewall was promoted to Rome Campus Coordinator for the Division of Public and Health Services and later to Rome Campus Dean, where he served for nearly a decade before returning to his role as Professor where he could continue his true joy – teaching. Beyond his retirement in 2006, he continued to teach as an adjunct faculty member for many years to continue working with students. Throughout his career at MVCC, Sewall was heavily involved in a multitude of college development efforts, including significant impact on assessment policies and practice. Both as a Professor and Dean, he remained highly involved with the College Senate, and he served on several committees. He played a vital part in developing and implementing strategic plans, conducting open forums to inform the College community on new efforts, and developing assessment instruments and surveys that are still in use today. He was awarded the SUNY Chancellor's Faculty Service Award and was highly sought after both nationally and internationally as a speaker in his field.
The MVCC Hall of Fame recognizes individuals who have embraced our community, modeled the way, inspired confidence, and encouraged excellence at MVCC. Selections are also based on business or professional achievements or awards, leadership service to the local community, personal achievements, leadership support and involvement at MVCC, significant contributions to MVCC athletics, and any other appropriate qualifications.
More information on each inductee is available at halloffame.mvcc.edu.