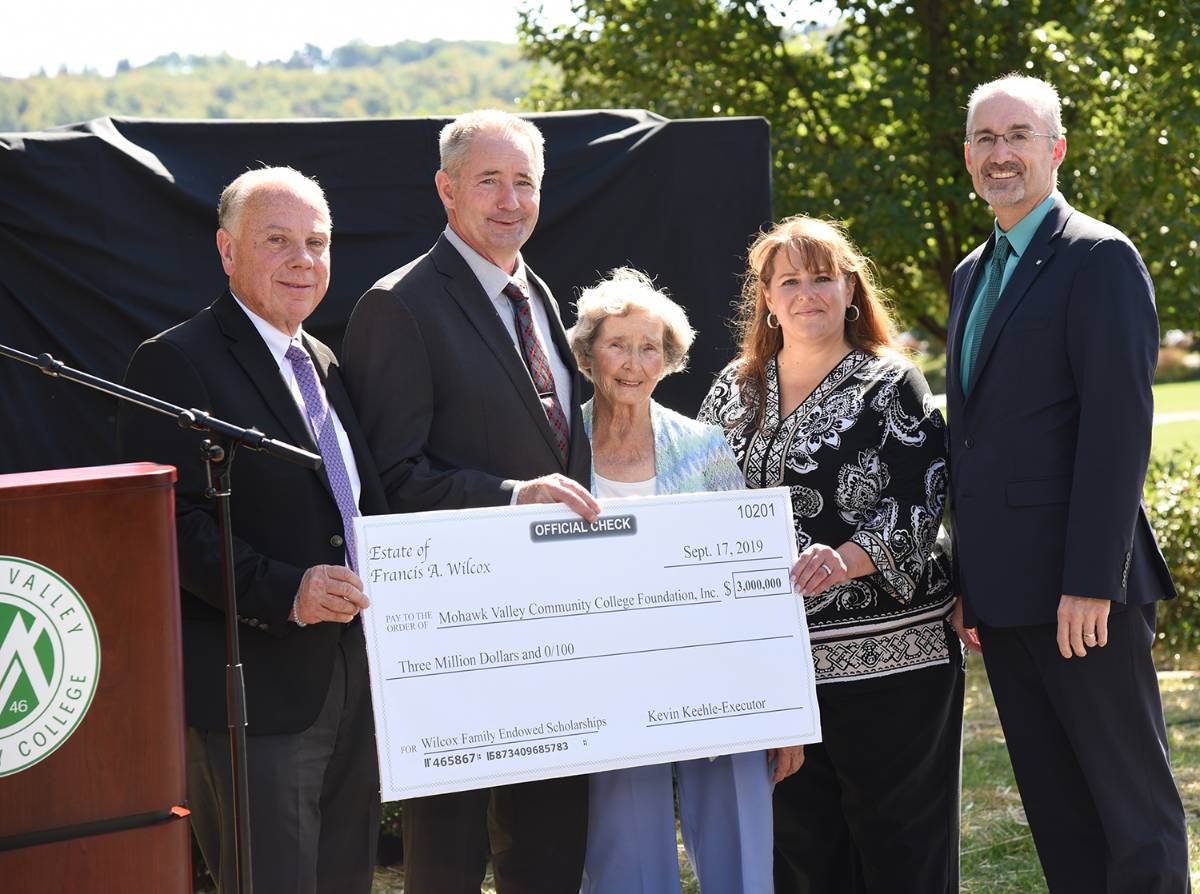 Former IT Building renamed Francis A. Wilcox Hall
Mohawk Valley Community College hosted a ceremony to rename the Information Technology Building at its Utica Campus at 2 p.m. Tuesday, Sept. 17.
The building is named Francis A. Wilcox Hall in honor of the late electrical engineer and decorated U.S. veteran Francis A. Wilcox, who named the MVCC Foundation in his will when he died in 2011. His generous gift of $3 million creates even more opportunity for local students and allows MVCC to continue its mission of providing accessible, high-quality education for all students.
Of the $3 million, $2,500,000 is allocated for the Wilcox Memorial Endowed Fund, which will support two full-tuition scholarship funds: The Presidential Scholarship and Exceptional Student Scholarship — merit-based awards that benefit more than 70 high school graduates each year and are renewable for their four semesters at the College.
The remaining $500,000 will be split: $250,000 will be used to establish the new Francis A. Wilcox Memorial Adult Student Scholarship, which will be endowed, and the rest will be used to create the Wilcox Family Fund, to be used for MVCC's areas of greatest need to help the College maintain its dynamism and impact in the face of swiftly evolving societal, technological, and academic needs.
"For more than 25 years, MVCC has offered free tuition to the top 10% of students from Oneida County high schools and the surrounding region in an effort to keep the best and brightest in our community," said Frank B. DuRoss, vice president for community development and executive director of the MVCC Foundation. "This incredible gift from Mr. Wilcox and the Keehle family will free up approximately $140,000 a year that the MVCC Foundation will be able to allocate to helping the College thrive. Additionally, the new Wilcox Memorial Adult Scholarship and Wilcox Family Fund will help more students succeed by offering an affordable, high-quality education."
"This is a truly transformational gift that will change the lives of so many students, and the fact the gift adds to our endowment assures the impact will endure into the future," said MVCC President Randall J. VanWagoner, Ph.D.
The MVCC Presidential Scholarship will be renamed the Francis A. Wilcox Memorial Presidential Scholarship. This full-tuition scholarship (less financial aid) is awarded to students who graduate in the top 10% of their class in an Oneida County high school. Students must be enrolled full-time, taking a minimum of 12 credit hours each semester, and maintain a minimum B GPA (3.0) for each semester in attendance. The endowment of this scholarship will free up funding for the MVCC Foundation, enabling it to help other students in need at the College.
The Francis A. Wilcox Memorial Exceptional Student Scholarship is also full-tuition, but for students who live outside of Oneida County who graduate in the top 10% of their high school class. There is a limited number of scholarships, and awardees are selected by the MVCC Scholarship Committee. Students must be full-time, taking a minimum of 12 credit hours each semester, and maintain a GPA of 3.0 for each semester in attendance.
The Francis A. Wilcox Memorial Adult Student Scholarship will help to create more opportunities for students age 25 and older who live in New York State, show financial need, and have a GPA of 2.0 or higher. The amount will vary, but will be able to be used for tuition, fees, and other educational expenses. The student may reapply annually as long as they are attending full- or part-time, and enrolled in a degree, certificate, or micro-credential program.
Wilcox was born in Utica and attended Blessed Sacrament School. He graduated from St. Francis de Sales High School, then earned his bachelor's degree from Rensselaer Polytechnic Institute and his master's degree from Cornell University. He served in the U.S. Army Signal Corps in India during World War II and was the recipient of the Good Conduct Medal, the Meritorious Unit Award, and the World War II Victory Medal. After his service, he worked as an electrical engineer with General Electric in Utica and Syracuse. In retirement, he volunteered at the Utica Public Library and the Oneida County Historical Society, helping people from all corners of the United States research genealogy.