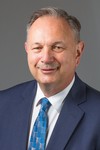 Mohawk Valley Community College Associate Dean of Athletics Gary Broadhurst has been named to the newly formed National Junior College Athletic Association (NJCAA) Foundation Board of Directors. Broadhurst is the only sitting athletic director selected to serve on the board.
The Foundation was formed to support the mission and endeavors of the NJCAA, the governing body of two-year college athletics based in Charlotte, N.C. As the fundraising entity of the association, the Foundation will enable additional opportunities for student-athletes and member colleges through scholarships, community service projects, and new initiatives. The Board of Directors is comprised of 30 members who will serve a vital role in the financial support of the Foundation and its long-term planning, oversight, and direction.
"The NJCAA Foundation is a significant endeavor that will create new opportunities for our nearly 60,000 student-athletes and over 500-member colleges across the country," said NJCAA President and CEO Dr. Christopher Parker. "This is a monumental addition to the NJCAA and the leaders that have chosen to join the Foundation will be making history for two-year collegiate athletics in the United States."
In his 40th year at MVCC, Broadhurst directs one of the most extensive, diverse, and successful two-year intercollegiate athletic programs in the country. Under his leadership, the Hawks have captured 24 NJCAA National Championships while finishing second an additional 18 times; 68 Region III Championships with 58 runner-up finishes; and 124 Mountain Valley Conference Titles. Under his guidance, MVCC student-athletes have been selected as NJCAA All-Americans 448 times, 1,149 have been recognized as All-Region and an astounding 160 have been individual NJCAA National Champions. Six student athletes have been selected as National Alliance of Two-Year College Athletic Administrators (NATYCAA) Scholar Athlete of the Year, more than any other institution in the nation, and 34 have been chosen for the SUNY Chancellor's Scholar Athlete of the Year.
Broadhurst represents Region III on the NJCAA Board of Regents. He previously served as both the Men and Women's Regional Director and Chair of the region's Executive Committee for over 10 years, and has served as the treasurer for the Mountain Valley Collegiate Conference since 1998. He also is actively involved in national professional organizations; he is a past president of NATYCAA and is the current treasurer of the organization. He also has served on the Executive Committee of NACDA, the New York State SUNY Athletics Oversight Committee, SUNY Chancellor's Award selection committee, and the NJCAA Assessment and Excellence Strategic Planning Ad-Hoc Committee.
Broadhurst has been the recipient of numerous awards during his career, including the NATYCAA L. William Miller Award, NACDA Athletics Director of the Year (2007, 2012, and 2016), the SUNY Chancellor's Award for Excellence in Professional Service, and the inaugural NJCAA Region III Athletic Director of the Year.
Broadhurst began his career at MVCC in 1979 as a Technical Assistant. He was promoted to the faculty ranks in 1988 before his appointment as Director of Athletics in 1996. During his tenure, he served as head coach of the men's basketball, women's basketball, men's and women's bowling, softball, and golf programs.
Mohawk Valley Community College, established in 1946, is New York State's first community college with a mission to provide accessible, high-quality educational opportunities for everyone. As the community's college, MVCC is committed to student success through partnerships, transfer and career pathways, and personal enrichment. With campuses in Utica and Rome, MVCC is the region's primary provider of college education, offering 90 degree and certificate options for its enrollment of 6,000 full- and part-time students. MVCC also serves an additional 6,000 people through its corporate and community education programs, and its campuses welcome more than 50,000 people annually for community events.