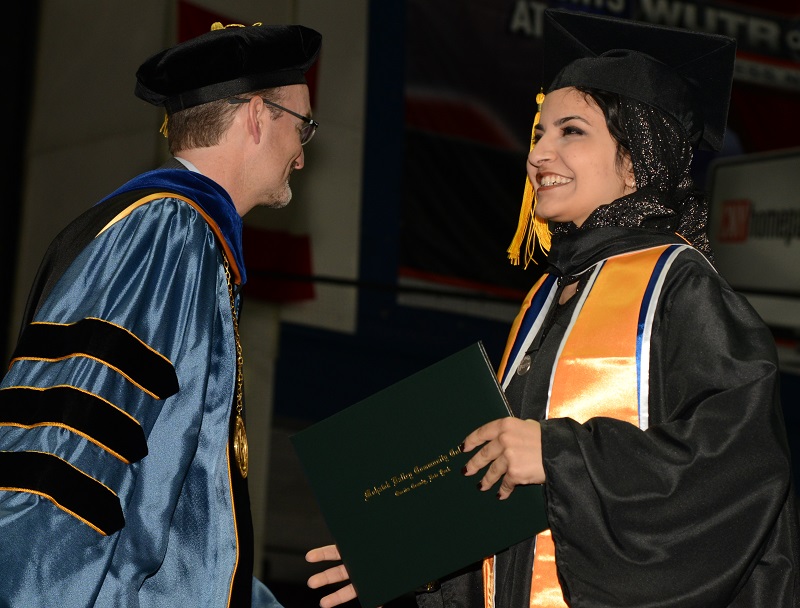 MVCC relies on the generosity of its alumni and donors to provide support and opportunities. Funds are directed toward four initiatives:
Creating Student Opportunity
Breaking Barriers
Revitalizing Our Economy
Educational Excellence
Every dollar raised can make a difference, and below are the many ways you can give and have a positive impact on our students and community.
Please choose the option that is best for you:
Online: Quick, easy and secure. Donate Now!
By Mail: Checks should be made payable to the MVCC Foundation and mailed to:
MVCC Foundation, 1101 Sherman Drive, Utica, N.Y. 13501
By Phone: 315-792-5555 during normal business hours: Monday through Friday,
8:30 a.m.-4:30 p.m.
Establish a Named Scholarship
With a minimum contribution of $10,000, an annual scholarship can be established. Pledge commitments may be paid over time.
Underwrite an Annual Event
Whether it's the Ted Moore Run/Walk, our annual scholarship dinner, or the
Golf Tournament, there are a number of opportunities to highlight your business or organization and support MVCC in creative ways.
Make a Contribution to Honor a Love One
Celebrate a special occasion or remember a loved one by honoring them with a gift to the MVCC Foundation.
Consider Gift Planning
One of the most powerful ways to make a difference in the lives of our students for years
to come is through a gift in your will.
For additional information, visit our online Guide to Gift Planning or contact Deanna Ferro-Aurience at 315-792-5555 or dferro-aurience@mvcc.edu.
Gifts In Kind
Gifts in kind are a form of giving in which, instead of giving money to buy goods and services, those products or services are themselves given. In the past, MVCC has received gifts in kind that include airplanes, office furnishings, and equipment.
Employee Payroll Deduction
If you are an MVCC employee and wish to, you can make your gift through payroll deduction.
Matching Gifts
You may be able to double or even triple the impact of your gift if you or your spouse's employer participates in a Corporate Matching Gifts program. Simply speak with your human resources or personnel office about obtaining a gift match form and include the completed form with your contribution.