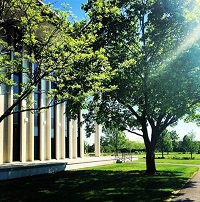 The MVCC Foundation's Emergency Relief Fund helps low-income students overcome financial barriers that threaten to derail their education. The fund provides stopgap assistance for students who need help staying in school when faced with immediate, major financial crises. The program helps students persist despite the obstacles that threaten to overwhelm them, helping them secure the education that can set them on their way to long-term economic stability.
The Fund provides qualifying students access to microloans that enable them to continue in their classes without fear of being evicted, failing due to lack of textbooks or required lab materials, or similar issues. The Fund is part of MVCC's commitment to breaking the barriers that prevent students from achieving their full potential. The College is committed to offering a life-changing second chance to students who are fighting to regain ground lost after dealing with situations that have thrown their lives – and their education – off track. With non-traditional students making up more than 30 percent of college enrollment, this effort helps students with ever-increasing family, job, and life responsibilities handle financial crises in return for a renewed commitment to education.
For those seeking to break out of the cycle of poverty and unemployment, a college education is the surest pathway to success; U.S. Census data shows that those with the lowest education levels are the most likely to be struggling economically. On average, 68 percent of MVCC students have incomes low enough to be eligible for federal Pell grants. In these economic straits, it can only take a small emergency to imperil a student's financial standing, given extra costs involved in attending school that are not covered by any grant – transportation, food, and living expenses.
To date, the Emergency Relief Fund program has achieved an outstanding level of success. In the past five years, the Foundation has made 407 emergency loans to students in need, reaching a combined total of just under $300,000. The impact of the program has been tremendous, as participating students have proven their dedication to fulfilling their commitments; to date, 97 percent of these loans have been repaid in full. This exceptionally high repayment rate has allowed the program to become nearly self-sustaining through a continually revolving cycle, helping high numbers of students achieve their dreams.
For more information about the Emergency Relief Fund, contact Frank DuRoss, Executive Director of MVCC Foundation and Vice President of Community Development at 315-792-5555 or fduross@mvcc.edu.