Meet MVCC's Student of the Month (March 2021)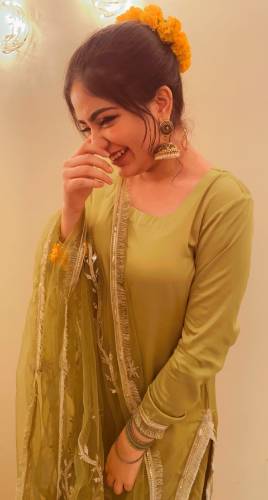 Hi, my name is Fabiha Khan. I am 20 years old, and I have been studying Psychology at MVCC for 3 semesters now. I am an international student, and I am hoping for this to be almost a testimonial for those who are contemplating if MV is the right choice for an education overseas, the answer is yes. I was born in Karachi, Pakistan to two incredible parents who inspire me every day. I have been a child of two cultures at heart ever since my family moved to Saudi Arabia when I was 9, and growing up immersed in two cultures, one of my household and another that was all around me, was a completely different experience, one that has been enlightening, exhilarating, liberating and has contributed significantly to my emotional and mental growth.
From a very young age, my parents have instilled in me a love for learning, not just academically but also from various activities and events. They made sure they took time to help me learn from little experiences which helped build my confidence and personality. Growing up I never questioned if I would go to college or not, I was always sure that it is the path I was going to take. I realized it in the first year of my high school that I wanted to do something in the field of mental health. I noticed it naturally in me, the understanding of personalities and the drive to want to help make others' lives easier. Things took a turn for me in the last two years of high school when I suffered severe issues not just physically but mentally as well. My personal experience with deteriorating mental health and my struggle to overcome it helped me come to a few realizations, two more significant than others: the first showed me how desperately the cultures I grew up in needed to talk about mental health and destigmatize it, and the second one was having a far stronger belief in the fact that the field I was choosing was the right one for me. In many Asian/Middle Eastern cultures, mental illness is stigmatized; it reflects poorly on family lineage and can influence others' beliefs about the suitability of an individual. It is still a surprisingly taboo subject where most people try to hush you down even if you do talk about it openly, which is what happened in my case by those around me. I often thank my stars for my parents who were aware and educated enough about the realities of mental health disorders to get me the support I needed; it is not the case for most people. Going to therapy and asking for help is much harder to do in Asian/Middle Eastern cultures when compared to many. While it was not hard for me to seek help, getting professional help often conflicts with the deeply inherent cultural value of interdependence. It stresses that family or community can meet all a person's needs. This has perpetuated the concept that individuals should not seek professional help when relying on their family or community. It was something I was always subconsciously aware of but when faced with it myself due to the reactions of those around me when I spoke openly about mental health, it still took me by surprise. I had never wanted to work as hard to change something before that moment, which is when I realized that this is what I want to do in the coming future-work for and in communities which could benefit greatly with mental health awareness.
As someone studying psychology, I really wanted to be in an atmosphere where mental health is given the importance and attention it truly deserves, which is why I decided that the best place for it would be USA. I chose MVCC for many reasons. The first would be that the diversity of the college, as well as the city it is in, makes it a lot easier for an international student to find people and places that help them feel at home in a more intimate, bustle-free environment. Second would be the affordable tuition. Third is the fact that it has on campus housing, which is a big benefit for an international student; it saves one from the hassle of finding off campus housing and dealing with unnecessary expenses. Lastly, the staff that I coordinated with were always incredibly warm and considerate towards me both before and after I became a student. The sizes of classrooms are comparatively smaller compared to universities, and professors constantly have time for students. As an international student learning the ways of the American education system, it benefitted greatly to have individual attention and help from professors. They are very much involved in their students' success and give them their undivided attention. I have made use of our Learning Commons tutors an obscene amount as well. It is such a big benefit to students seeking help in any academic issue whatsoever, from help in papers to help in research. I have said it countless times in the past year that I am certain that the reason I have a 4.0 GPA and am somehow maintaining it amongst all the worlds chaos is because I have the access to The Learning Commons. I highly suggest making use of that to every student who reads this.
It was a nice change to finally NOT be required to rote learn and be running after ranks. The education system I came from is incredibly competitive, and things can get fierce to get the best grade possible. You also are made to study subjects you may not have any interest in or may not even need for your future. The education system here though is based on what interests a student and what is required for their goal profession. I have also been involved heavily on campus both before and during the pandemic. Currently, I am the Student Trustee of Student Congress, and the current President of Muslim Student Association (MSA). I am also heavily involved in Program Board, which organizes and arranges most of the events that happen on campus for students. I have realized that being involved on campus has made me fall in love with my campus from more than just a student perspective. I have started to learn all that it takes to run a college. The decisions that are made, the amount of people it requires to run an establishment, and the hard work and patience it takes. Being the Student Trustee has also helped me meet a lot of the student body and populations that I may not have known were present on our campus, it helped me learn about how diverse our community really is.
To those who may be questioning if MVCC is the right choice for them, I honestly do not know, but it has proven to be one of my best decisions. This experience can teach you so much, and it will shape you to excel in your academic and personal life. I have made some incredible friends here and met some great teachers and staff who have left such a mark in my life. Learning to me now is more about understanding the concepts of what is going to benefit me in my future profession, as well as the drive to find out more to contribute to the advancement of my field. MV has inspired me to be as hardworking as I possibly can and push my limits. I have explored sides of my personality that I did not know existed, and I have accomplished things I did not know I was capable of. There is so much that the future holds, there is much left to explore and accomplish, but the one thing I am sure I would always be glad about is that I started here.