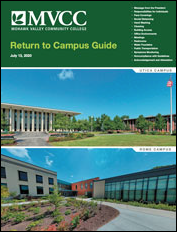 All employees (including student-employees) must complete this acknowledgement and attestation to help us minimize the spread of COVID-19 on campus. Should you choose not to complete this requirement, you are not allowed on campus and are subject to corrective action, up to and including termination and dismissal.
Read the Return to Campus Guide
Sign the Acknowledgement/Attestation below
---
I understand the College will, in addition to its standard cleaning practices, be taking the following health and safety measures:
Deep cleaning and disinfecting of common areas;
Ensuring hand sanitizer stations are located in all buildings, subject to availability of hand sanitizer;
Checking ventilation for proper airflow to reduce the possibility of airborne transmission of the virus; and
Building occupancy management to reduce density and facilitate physical distancing
I have read MVCC's Return to Campus Guide and commit to following the guidelines to fulfill my responsibility for protecting the health of our community.
I will check my temperature daily and stay home if my temperature is higher than 100.0 degrees Fahrenheit.
I will stay home if I have any of the following:

Fever
Chills or shivers
Muscle pains or aches (not due to exercise)
Cough (worse than usual if you have a daily cough)
Shortness of breath or trouble breathing
Headache (worse than usual if you have headaches)
Scratchy or painful sore throat
New loss of taste and smell
Nausea/vomiting/diarrhea/stomach cramps
Dizziness and lightheadedness
Sneezing, runny nose, or congestion (worse than usual if this is common for you)
Fatigue that is unusual or more severe than normal
Eyes are unusually red or painful
A member of my household has a confirmed COVID-19 infection or I have been in close contact with someone who had a confirmed COVID-19 infection.

I will practice good hand-washing hygiene (washing after touching your eyes, nose or mouth; washing after blowing your nose, or sneezing or coughing into your hand; washing after touching contaminated surfaces; washing after using a disinfectant product; washing before preparing food or eating and after; washing frequently and for 20 seconds with soap and water, and utilize hand sanitizer if hand washing facilities are not available.
I will practice physical/social distancing (six ft.) on and off campus, when on College business.
I will stay home if I have been exposed to anyone suspected to have COVID-19 or confirmed to have COVID-19.
I will wear a face covering at all times, unless I am eating and seated in a designated location.